James Gordon is mentioned often in newspapers both in Sydney and within the Sorell Municipality.
But first a bit about the man and his arrival in Van Diemen's Land (Tasmania).
James was born in 1779 in the town of Forcett in Yorkshire, England. At age 27, he emigrated to Sydney and became a well known trader.

In January 1814, he married Elizabeth Arndell and by April that year, he was appointed Naval Officer in Hobart Town. As he had good connections back in England, he was also appointed as a magistrate and as part of the Lieutenant Governor's court.
But by late 1815, he was working his farm in the Sorell municipality rather than being a Naval Officer.
When researching James Gordon and his influence in the Sorell municipality, I looked in Trove on the National Library Australia at how often he was mentioned in newspapers. Up to 1842 at his death, he was mentioned about 750 times. Below are some of the interesting events he was mentioned in.
1816 supplying fresh meat to the commissary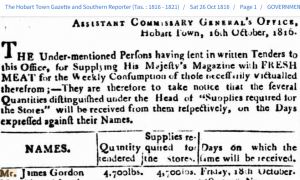 1819 Sheep speared by aboriginals – to read the rest of the report, click on the image.
1821 Cautioning trespassers on his property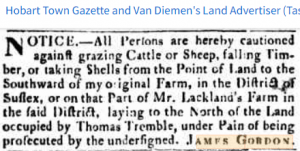 1822 Contracting for bricks – maybe to start his house?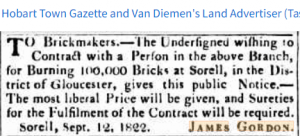 1823 Building his house – click on image to read the rest of the article
1824 Agricultural meeting also mentions Robert Gard, a servant of James Gordon – click on image to read more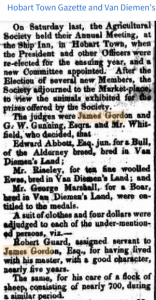 1824 Offering reward after killing of property
1829 New appointment in the district of Richmond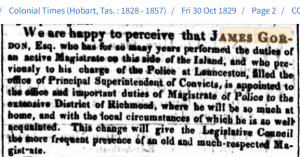 1833 A 'Native Youth' wrote a letter to the editor about James Gordon 
1834 James Gordon had problems with the government
1836 Letting a farm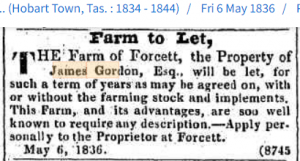 1837 Chairing meeting of Sorell residents – click on link to read more of the meeting
1840 Judging at the Hobart Town Horticultural Society – widely respected in the farming community – click image for more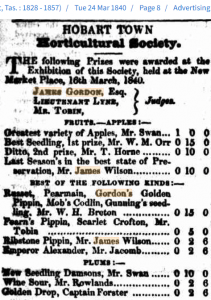 1841 American aloe at Forcett

James Gordon's death and funeral in August 1842 was written about by  The True Colonist Van Diemen's Land Political Despatch, and Agricultural and Commercial Advertiser..
In his will, everything is left to his wife Elizabeth and upon her death it goes to her relatives as the Gordons did not have any children. A copy of the will can be read here – such beautiful handwriting.