Thanks to Dawn Gatehouse for writing this post and providing the photos for this #OnePlaceShows
History of Sorell Rose Show
The late Keith Ward lived at Dunalley then moved to Sorell and was on the Sorell Council for a time. Keith joined the Sorell and Districts Garden Club. He had a dream to see a Rose Show held in the St Georges Hall and Rose Garden and after a few years of persuasion, some of the Garden Club members took on the challenge and held the first Rose Show in 2009 in St Georges Hall and surrounds.
In the second year the Rose Show moved to the supper room at the Memorial Hall while renovations were carried out in the St Georges Hall. The Rose Show returned to the St Georges Hall for a number of years. The show included classes for specimen roses, containers of roses and other flowers, fruit and vegetables. Floral Art was on display and the Rose was celebrated in other ways through photography and art and craftwork. In the early days there were also classes for children.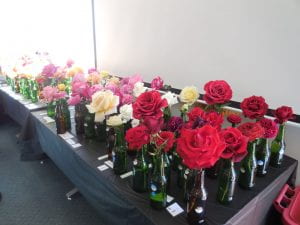 Example of schedule
Section A – Roses
1 Bloom – Red/Crimson

1 Bloom –  White/Cream

1 Bloom – Pink/Rose

1 Bloom – Yellow/Apricot

1 Bloom – Bi-colour/tricolour rose

1 Bloom – Any other colour rose

1 Bloom – Full blown rose, stamens must show 

1 Bloom – Single flowered rose (no more than 7 petals)

1 Bloom – David Austin/old fashioned rose

1 Stem – Cluster-flowered roses

1 Container – David Austin Roses

1 Container – Cluster-flowered Roses

1 Container – Miniature Roses

1 container – Roses of mixed Variety
Containers for specimen roses supplied by Committee.  All other containers to be supplied by the Exhibitor.
Section B – Other
1 Container – Irises

1 Container – any other flower variety

1 Container of one variety of fruit or vegetables –at least 3 pieces

Box or basket of mixed home-grown fruit, vegetables, nuts or herbs.

Collection of herbs.
All flowers or produce in Sections A & B to be grown by the exhibitor.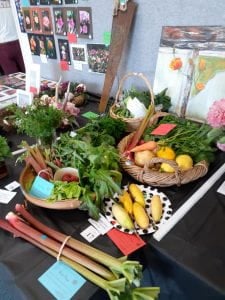 Section C – Floral Art
Arrangement using 1 Rose Bloom and other plant material

Mantel arrangement  frontal effect

Floral design suitable for a table centrepiece

Miniature Arrangement (under 10 cm any direction)

Arrangement in unusual container.
Flowers in Section C need not be grown by the exhibitor.
Section D – Photography, Art and Craft.
1 Photo of a rose or roses postcard size ( 15cmx10cm)

Set of 3 separate rose studies post card size (15cmx10cm)

Photo of a garden scene with roses.
Any article of art or craft featuring a rose or roses ( Could be painting, embroidery, crochet, sculpture, gift card)         

Exhibits to be no more than 2 years old.
           Photos to be mounted on card with 2.5cm edging. 
After a number of years, the Rose Show ceased to happen and the garden club disbanded.
In 2018 the Lions Club took on the request to revive the Sorell Rose Show. It was necessary to stage this event in the Lions Clubrooms as it was not viable to pay to hire another facility. Since then the Sorell Rose Show has been a successful small one-day event. Garden stalls are held outside, light luncheon is served, a prize is given for each section although there is no prize money for each class. It is free to enter and admission is at a small cost.
The Sorell Rose Show has become a colourful, pleasant and friendly event.