Rules for being a licensed publican in 1816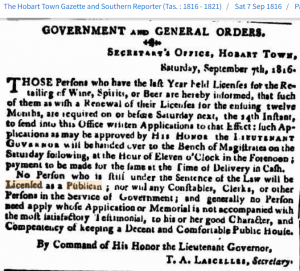 On the eastern shore of Hobart in 1818, there were only three licensed publicans at Herdsman's Cove, Clarence Plains and Kangaroo Point.
In 1819, only three again outside of Hobart Town – Black Snake, Clarence Plains and Herdsman's Cove.
In 1820, Herdsmen's Cove and Black Snake & Old Beach Ferry were the only two outside of Hobart.
The first mention of a licensed publican in the Sorell municipality was in March 1822. But by August 1822, he was in trouble.

I then found mention of Daniel Long being able to sell spirits, wine and beer in the country area at the Plough and Harrow in Sorell Town in 1824. Also mentioned was James Honey at Plough and Harrow at Pitt Water.
Using the Tasmanian Names Index Daniel Long is the licensed publican from 1824-1829.
A writer of an article in the local paper in 1825 was worried about the number of 'sly grog shops' in Van Diemen's Land.
By 1827, there were 36 licensed publicans in Hobart Town and 22 in the country area. That included:
Daniel Long of Pittwater – Plough and Harrow
Brereton Rolla Watson of Sorell Town – Sorell Inn
James Kestall Buscombe of Richmond – Lennox Arms
By 1829, there were 50 licensed publicans in Hobart Town and 37 in the country area. That included:
J. K. Buscombe, Lennox arms, Richmond.
W. Currie, Blue bell, Sorell.
D. Long, Plough & Harrow, Sorell.
C. Layman, Wheat-sheaf, Sorell.
B. R. R. P. Watson, Sorell inn, Sorell
By 1830, there were 47 licensed publicans in Hobart Town and 40 in the country area. That included:
J. K. Buscombe, Lennox Arms, Richmond
Joseph Clyne, Gordon Arms, Richmond,
Henry Fisher, Wheat Sheaf, Sorell.
Henry Leigh, Sorell Inn, Sorell.
Dan. Long, Plough and Harrow, Sorell
A Political Association meeting included information about licensed publicans in 1835.
To find out more about the inns and hotels of Sorell in the early 1800s, use the Libraries Tasmania search everything and use Sorell Inn Hotel as your keywords. Remember you will also get information for Port Sorell which you will need to eliminate.
Present day hotels in Sorell include the Pembroke Hotel and the Gordon Highlander, both pictured below.
Reminder: Clicking on images and blue links will take you to the original document.