Thanks to Amanda Mackinnon for writing this post for the A-Z challenge.
Thanks to the Carlton Park Surf Life Saving Club archives for the use of the image.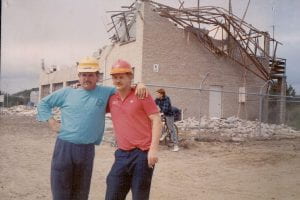 The day the roof blew off
Carlton Park Surf Life Saving Club draws its local community close. The clubhouse and its adjoining storage and rescue facilities are nestled in the dunes at glorious Carlton Beach, one of the most popular beaches in the Sorell municipality. The 2.7km stretch of white sand faces the entrance of Frederick Henry Bay, being bound by the Carlton River mouth to the east and Spectacle Head to the west. It's an idyllic location to say the least, and one that's been home to the iconic red and yellow flags for over 60 years. 
Carlton Park was officially established in 1975 following the merger of Hobart Carlton (affiliated in 1957) and Park Beach (affiliated in 1959) Surf Life Saving Clubs. Both Hobart Carlton and Park Beach made significant and colourful contributions to surf lifesaving in Tasmania and original members of both clubs can still be found at Carlton Park today. The fact that an interstate carnival attracted more than 20,000 competitors to the beach in the 1960s provides an indication of just how popular the sport has proven over the years. 
Carlton Park's facilities are currently undergoing an exciting redevelopment to cater for the growing population of the Southern Beaches region. However, it's not the first time club members have banded together to reinvigorate this valued community resource. 
In March 1989, a freak gust of wind in the form of a spiral travelled across the bay towards the Carlton Park clubhouse. It wreaked havoc. The roof was torn off and much of the block work was torn down by the effect of the roof twisting about the rear wall. The result was the complete destruction of the entire first floor. 
Residents at the time recall a still afternoon and an almost eerie silence up until the time when the gust approached. The wind continued inland for some distance, reportedly breaking limbs from trees but causing only minor damage to a few other buildings in the area. 
Even more heartbreaking for members was the fact that the facility has only just been renovated and the interior repainted – courtesy of countless hours of volunteer work. In the weeks that followed, members spent hours clearing away debris and salvaging materials. 
Fingers crossed history doesn't repeat itself once the new clubhouse is completed in 2022!