On the timeline for this blog is  a list of early explorers of the district. In this post I am going to look at those sea explorers who visited.
Abel Tasman 1642
He was a very well known sea explorer and in 2017, there were many celebrations held in the community relating to Abel Tasman and his voyage to Van Diemen's Land. A post written on the Sorell History Society blog shows how his voyage affected the municipality of Sorell. Tasman's voyage included setting foot on the land and seeing clouds of smoke, but no meeting of the Aboriginal tribes.
Marion du Fresne 1772
Many men on his voyage kept journals which included the first encounters Europeans had with Aboriginal people.  These can be found on the Australia on the map website. This site also includes information from Abel Tasman journals.
These two explorers dropped anchor in what we call Blackman Bay (Marion Bay) nowadays but was originally called Frederick Henrik Bay. Due to poor mapping of southern Van Diemen's Land, many errors were made when naming bays in the municipality.
Bruni D'Entrecasteaux 1792-1793
He anchored in Storm Bay in 1792 and while the crew looked after the ship, he mapped much of the southern coast. On a second visit in 1793, he examined more of Storm Bay, particularly the northern section including what was to be known as Riviere du Nord or Derwent River in future years.
George Bass and Matthew Flinders 1798
As part of their circumnavigation of Van Diemen's Land, Bass and Flinders mapped and named more of southern VDL including Storm Bay and the Derwent estuary. On Christmas Day, Bass climbed Mount Table now known as Mount Wellington. Norfolk Bay was given its name by Flinders after the boat they were using on their voyage.
Nicholas Baudin 1802
By January 1802, Baudin was mapping more of the coastline (see maps) that had already been done by Bass and Flinders. So this is where many places ended up with two different names. Pierre Faure was a French geographer who travelled with Baudin and charted and named Carlton River (Riviere Brue) and Pittwater (Basin Ransonnet).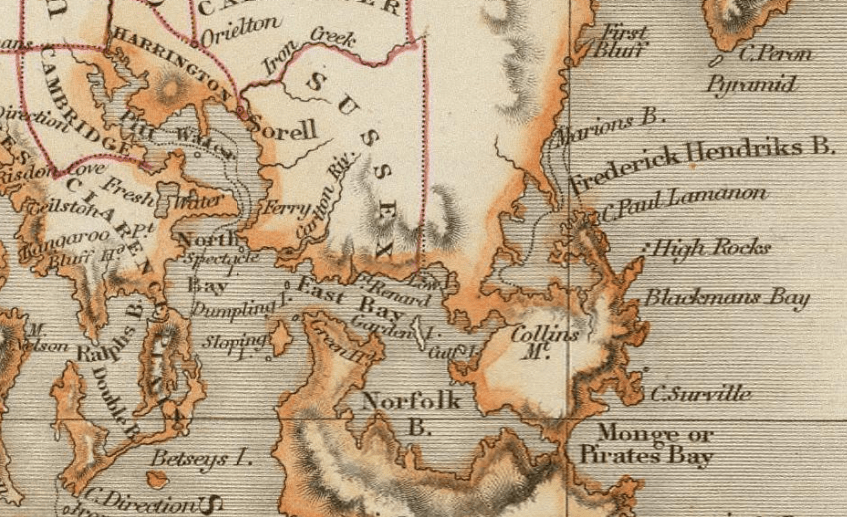 Image Credit: Click on map to go to original
"David Rumsey Map Collection, David Rumsey Map Center, Stanford Libraries"