The topic for the one place study this month is looking at women in your study. So I sent out a post on Sorell Historical Society Facebook page asking for women you think I should write about and why. One person replied and I have her permission to copy direct from her:
Elizabeth ALLANBY nee CUMMING arrived in VDL with her husband and two day old daughter on 2 July 1824. Shortly after arrival the family purchased land on the Iron Creek at Pittwater and named it Flimby Park, after the town John ALLANBY grew up in. John and Elizabeth had 10 more children before John passed away in 1847.

John's will gave Elizabeth the choice to sell everything and return to England or to remain in Tasmania. She decided to stay and raised the children on her own. The youngest was only 4 when John died.

Elizabeth completed a claim for the land grant that had been given to John, she ran both the Flimby Park farm and the Clifton Hill farm, the land grant, at Bream Creek and ensured all the children were well educated.

While Elizabeth did not make a mark directly on the world, her children did make an impact, a solicitor, bank manager, Arch Deacon of the Church of England, several JPs. All the ALLANBYs I know of in Tasmania can trace their line back to this strong caring woman.
Karlena Nagle – Elizabeth was my 2xgreat grandmother.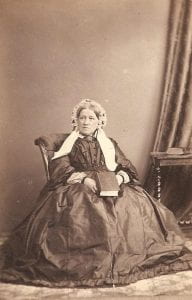 Here are a few links to things mentioned by Karlena – arrival in 1824, birth of daughter at sea, John's will, John's death, land grant gained in 1858
At the time of her husband's death, Elizabeth was about 45 years old. She had given birth to the following children I could find using the Tasmanian Names Index:
1824 – Jane Georgina – born at sea on voyage to Van Diemens Land
1826 – John Walker – died at 5 days old
1827 – Mary Anne – died aged 4 months
1828 – John Walker
1830 – Thomas Walker
1834 – William Smeeton
1836 – Christopher Gibson
1838 – Alfred Wilkins
1839 – Barbara Elizabeth
1843 – Llewellyn Robert
At the 1842 census, the family were living at Clifton Hill property. The building was unfinished but built of both wood and stone. There were seventeen people on the property of which thirteen were free. One visitor was there that night Mr F Spotswood. Of the people there that night: 6 single males born in the colony, one single female born in the colony, 1 married male arrived free, 1 married and 1 single female arrived free as well as some convicts and servants. So according to the census, in my list above I am missing the birth of another male child prior to 1842.
The eldest daughter Jane married George Spotswood in 1846 so was not living at home when her father died in 1847.
So I then decided to check out how Elizabeth was represented in the newspapers of the day.
Looks like the local thieves or bushrangers decided to enter her house shortly after her husband had died.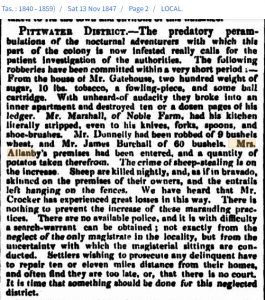 In May 1855, she was seen donating one pound and one shilling to the Patriotic Fund.
In April 1864, Elizabeth was present with one of her sons, at the laying of the cornerstone of St Thomas's Church in Sorell.
There was a lot of discussion in 1868 about a bridge or causeway to be built across the Iron Creek relating to part of Elizabeth's property.
Also in 1868, Elizabeth closed the dairy at her farm.

In November 1868, Elizabeth and many of her children and their spouses attended a tea meeting regarding Reverend Brammall now becoming the incumbent at St Georges Church in Sorell. There was a very large writeup in the local paper.
Elizabeth and her daughter Barbara (Mrs Marshall) were often noted in the papers as travelling to and from Melbourne.
She was often in the advertising section whenever land grants were mentioned as she owned a lot of property that would border other land grants being settled.
At the time of her death in 1878, Elizabeth had at least 6 of her children married, and at least 33 grandchildren mainly living in Sorell. Her son William had married and moved to Launceston and her son Alfred had moved to New Zealand but had died five years before Elizabeth. Her son Thomas had also pre-deceased her in 1872. In her will she left her goods and chattels to both of her youngest children Barbara and Llewellyn. The properties had already been handed over to her sons.
Elizabeth was buried with her husband John William Allanby in the Henry Street Cemetery in Sorell.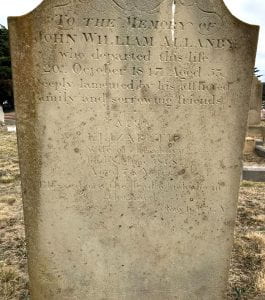 Judy Hurst (3xg granddaughter of Elizabeth) on the Sorell Historical Society Facebook page  mentioned there was also quite a bit about Flimby Park and the Allanbys in "Home and a Range" by Leonard Dimmick which covered the Hean family who were related by marriage to the Allanbys. ISBN 0646338099  Dewey Number 929.209946
Readers: Have you any more stories about Elizabeth Allanby that you could share in the comments below?