Thanks to David Gard for writing this post for the A-Z challenge.
Blue links will take you to the digitized images from Libraries Tasmania website or newspaper articles from National Library website Trove. Clicking on the images will take you to the original article.
WILLIAM GARD, my great great grandfather was born in the village of Allington, Dorset, England in 1815. It is not sure when or how he immigrated to Australia but he was the only one of the seven (7) children in his family to migrate. His father Edward 1789-1823, a stone mason died in Dorset, England when he was only eight.
William somehow made his way to Pittwater, Tasmania (now Sorell) where he became one of the largest land holders in town, but after receiving more than his share of bad luck he was forced on a number of occasions to liquidate his assets. However, through sheer determination he managed to rebuild on each occasion.
His grandfather, Robert Gard was transported to Van Diemen's Land as a convict in 1818 and buried in Richmond district in 1834 which would have been a few years prior to William arriving in the colony. He also had a brother, Joseph who was transported to Tasmania as a convict in 1838 and was pardoned in 1847. Joseph died in Sorell in 1866. It is not known whether they reunited. Williams uncle, Thomas Bennett Gard was also transported to Van Diemen's land in 1822 after a reprieve from the death penalty and like his father Robert he was assigned to magistrate James Gordon to work his farm in Pittwater.
William was described as a hard working industrious colonist and built quite a large portfolio of properties and ran a number of business ventures in Sorell. He was on the board of the Sorell Causeway committee and a member of the Clarence council, and a justice of peace. A large farm he leased with a business partner Henry Clack was dissolved in 1840 when William ran off with Henry Clacks wife, Mary Ann Clack (nee Parsons) who he later married in 1848.
Williams financial troubles started in 1843 when he was declared insolvent and was forced to sell off much of his assets. After a 2 year struggle to re-build, a trading vessel he owned was maliciously set on fire (could it have been lit by Henry Clack ?) The Sorell community, which held him in very high esteem called on the government to assist him with his losses and help him obtain another vessel which he intended to trade between Hobart Town and Adelaide.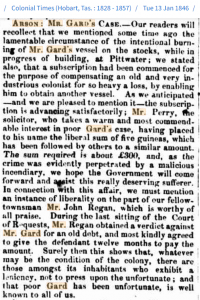 In 1853 William managed to purchased the towns iconic Bell Bell Inn, but his bad run of luck started again where in 1863 when another large fire destroyed the Inn and he lost all his possessions. He managed to raise a mortgage of 2000 pounds to re-build the inn however the financial strain was too much and for the second time he was declared insolvent and the Inn was passed back to the mortgagee, William Lindsay.
In 1855 William experienced another devastating fire on his farming property where he lost a large stock pile of wheat, grain, barley, oats and peas as well as live stock. William had not taken out insurance because of the way he was treated by the insurance company after the fire that destroyed the Blue Bell Inn 2 years earlier.
In 1864 his entire property holding of fifteen (15) properties in Sorell were put up for sale however because of his debts, it is not known whether he had any equity left after the sales. Lindsay died in 1866 and the Blue Bell Inn was put up for a quick sale and it was purchased by William Gard's son, Edward (our great grandfather) for a bargain price of 300 pounds. Edward also experienced financial difficulties when he was forced to raise a further mortgage of 180 pounds. In 1869 Edward defaulted on the mortgage and lost possession of the Inn.
On 7 February 1867 William passed away in Sorell with cause of death noted as gout.
In 1874 Edward again managed to regain the family inn but found the financial burden too much and again after a short period of time he lost possession thus sadly ending the Gard connection with the Inn.